Education, Action, Solidarity: A Rallying Cry for the Ukrainian Student Club Campus Community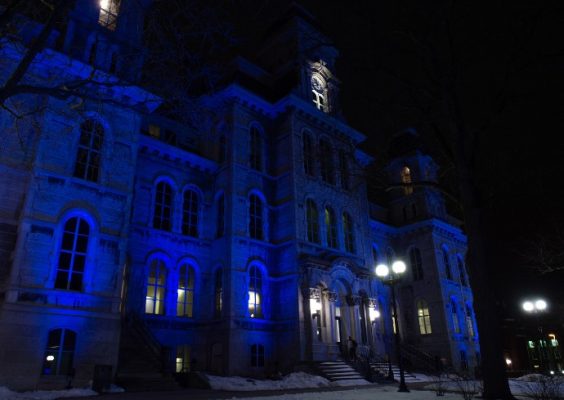 Taras Colopelnic '23 was born in Romania, is of Ukrainian descent and grew up in Auburn, New York, home to one of the many vibrant Ukrainian-American communities in Upstate New York. A junior at the Whitman School with a dual major in management and entrepreneurship, Colopelnic is the current president of the Ukrainian Club of SU, a student organization that provides a soft landing point for the community and an on-campus connection for students. Ukrainians and/or of Ukrainian descent. and anyone who wants to know more about Ukraine.
Since the start of the war last month, the club has mobilized resources and shared means for individuals to provide support to Ukraine. Syracuse University News spoke with Renée Crown University Honors Program Member Colopelnic about the Ukrainian Club's legacy and programming and how the campus community can help.
Q: Can you share the history and goals of the Ukrainian Club at Syracuse University and how you got involved?
A: As far as I know, the club has been around since the 90s. There have always been Ukrainian students at Syracuse University, whether they are from the area, like me, or from further afield. Even before I was accepted to Syracuse, people from my local Ukrainian community told me that there was a Ukrainian club on campus and that I should join. I joined right away in my first year and became president after my second year.
The club had been dormant for a few years, so we were mostly trying to get their lineup going again in 2019 and 2020 before the pandemic hit. For us, it's not so much the bureaucratic side of having a club, it's more just the community side. We want to promote our Ukrainian culture and history and share these things with the world and the academic community.
Q: What are some of the club sponsored programs?
A: February 2020 marked the sixth anniversary of the Maidan Revolution in Ukraine. We unfurled 100 Ukrainian flags in the grassy area between Schine Student Center and Newhouse in front of the Hall of Languages ​​to commemorate the peaceful protesters who were killed during these protests for freedom and democracy. On the same evening, we organized a screening of the film "Winter on Fire", about the revolution, which is widely shown at the moment to help people understand where all this is coming from, why Ukraine is fighting. More recently we had a screening of "Mr. Jones", a film about Gareth Jones, the journalist who first exposed the Holodomor, the famine genocide orchestrated by Stalin in 1932-33.
This fall, we have partnered with the honors program and the Department of Languages, Literatures and Linguistics [in the College of Arts and Sciences] to organize an event with Myroslav Marynovych. Marynovych is currently vice-rector of the Ukrainian Catholic University of Lviv and is a famous Ukrainian Soviet dissident, founder of the Helsinki Group and survivor of the Soviet Gulag, in which he spent seven years in prison and three years in exile in the 1970s and '80s. He spoke about his new memoir, "The Universe Behind the Barbed Wire: Memoirs of a Ukrainian Soviet Dissident." It was an important lesson in the value of freedom. And right now we are focusing on how to mobilize for Ukraine.
Q: How can members of the academic community show their support for Ukraine in this time of war and desperate need?
A: Our first call is for people to know what the situation is, what is happening. Realize this is a war. It's not a crisis. This is Russian aggression. There aren't really two sides to this that need to find common ground. There is an invader and an invaded country, and it is very plain and clear. I think that's why the whole world has united around the cause of Ukraine and supports Ukraine because it is the most open and open expression of violence against a peaceful country that we have seen for a long time. We ask everyone to educate themselves as much as possible on the subject. Don't be afraid to ask questions, especially to Ukrainians, to people who may know a little more than you.
Second, fundraising is the most important thing right now. Logistically, there are ways to gather the items that are really needed, especially medicinal items, and ship them there. But our main goal is to raise funds, and there are countless organizations through which you can do this – international organizations like the Red Cross and other humanitarian agencies, or directly through Ukrainian organizations.
And our third call goes ahead, we encourage people to learn something about Ukraine. Look for something, something that interests you and you will see that it is a cool country, maybe you would like to visit one day once this is over. The world has a lot to learn from Ukraine, especially from its response to an invasion, from how Ukrainians are so brave and willing to fight for their freedom. I think sometimes in America we take that for granted. I know I have myself already, countless times. When something like this happens, you realize that we live in an unstable and charged world, and our freedom is never guaranteed.
Q: Why is it important to you, as an American college student, to keep your Ukrainian heritage and culture at the forefront of your experience?
A: For me, it has always been about identity and knowing that my identity is not accepted by everyone. There are those, as we see clearly now, who would rather it not exist. It has always had a deep impact on me and I feel it is my duty as a Ukrainian to share what I love, what is beautiful in my culture and my heritage with others. I think that goes for anyone who is passionate about their culture, or whatever they have to share, really. It is a thing of human nature. Sharing is just an expression of that love, an outward expression of it.
To connect with the Ukrainian League club and find links to support Ukraine financially and in other ways, follow the club on Instagram @ukrclubsyracuse.