More men graduate in ICT than women employed – Products Eurostat News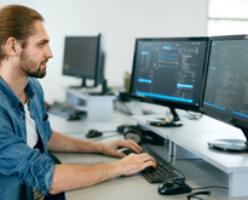 In 2021, 2.79 million employed people had ICT education, 3.3% more than in 2020. Men made up 84.1% (2.35 million) of the total workforce in EU with ICT training, an increase of 1.3% compared to the previous year (2.20 million in 2020), while the number of employed women with ICT training has decreased. In 2021, women made up 15.9% (442,800) of the ICT workforce compared to 17.2% (463,800) in 2020.
Considering the EU Member States, Czechia (92.6%), Slovenia (90.8%), France (89.7%), Belgium (89.2%) and Poland (89.1%) had the highest proportions of men in the total number of employed persons in employment. ICT training.
Women accounted for more than a quarter of employed persons with ICT training in Bulgaria (36.6%), Greece (29.4%), Denmark (28.0%), Romania (27.2% ) and Cyprus (26.9%).
Source dataset: isoc_ski_itsex
Majority of employed ICT-educated people are young
In the EU, more than two-thirds (67.5%) of employed people with ICT training were between 15 and 34 years old in 2021, and 32.5% were between 35 and 74 years old.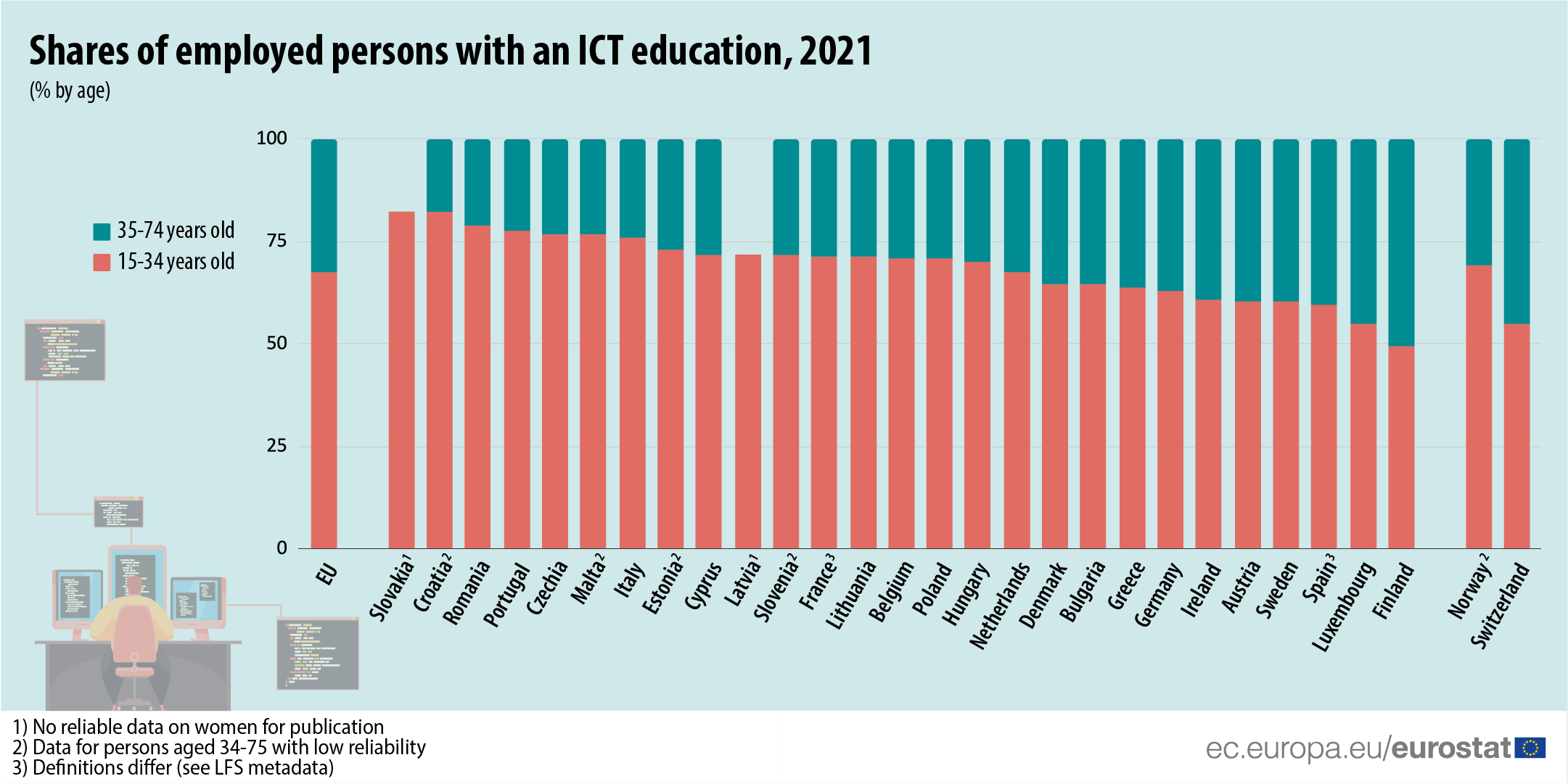 Source dataset: isoc_ski_itage
Young people aged 15-34 made up the majority of employed ICT-educated people in almost all EU Member States, with the highest proportions in Slovakia (82.4%), Croatia (82.2 %), Romania (78.8%), Portugal (77.7%) and Czechia (76.9%), Finland being the exception with 49.5%.
The highest proportion of people aged 35-74 with ICT education in the EU workforce was in Finland, where the proportion was almost 50/50 (50.5% for 35-74 year olds), followed by Luxembourg (45.2%). , Spain (40.5%), Sweden (39.7%) and Austria (39.5%).
For more information:
Methodological notes:
ICT-educated people have obtained formal qualifications at upper secondary or tertiary level in the following areas: computer use, design and administration of databases and networks, development and analysis of software and applications, and interdisciplinary programs and qualifications involving information and communication technologies. .
For all EU countries there is a break-in time series for employed persons with ICT education by gender and age (see new LFS methodology from 2021).
For Austria, Belgium, Croatia, Czechia, Estonia, France, Malta and Slovenia, the reliability of female data provided by Member States is low.
For Latvia, Norway and Slovakia, data on employed women with ICT training are not available because their level of reliability does not reach the publication thresholds.
For Slovakia and Latvia, data for the upper age group (34-75 years) are not available because their level of reliability does not reach the publication thresholds.
For employed persons with ICT background in 2021, definitions differ for Spain and France, please see LFS metadata for more details.
To contact us, please visit our user support page.
For press enquiries, please contact our Media Helpline.