Passover Message – MWU Education Department 2022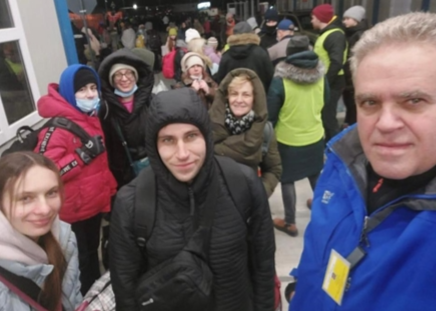 Kfar Maccabee, April 2022
ניסן | תשפ"ב
Dear friends,
When we talk about Passover

[1]

we usually refer to its message of freedom. In these days preceding the Feasts of Matzot and spring in Israel, we receive and send greetings to our esteemed people describing the Chag

[2]

– in fairness – like "Chag HaSherut", or "The Festival of Freedom", evoking the epic of the liberation of the Jewish people from the pharaonic yoke more than 3,300 years ago. This is the central theme of the Haggadahthe story we read with our family and friends at the traditional Passover Seder

[3]

, stored in our memories with love and warmth since our childhood. Passover has become synonymous with freedom, with multiple meanings in all spheres of our lives.
Maccabi Europe immediately established a Maccabi Europe Ukraine Working Group directed by Dagmar Gavornikova, President of Maccabi Europe and President of Maccabi Slovakia. Dagmar was in the best position to contact Maccabi Ukraine, establish their immediate needs and begin planning their evacuation.
With a more believable plot in a WWII film, we asked for support from Maccabi World Union in Israel, then other Maccabi countries across Europe, including Maccabi Hungary, Poland, Germany, Italy, Holland, Moldova and Romaniaasking them to join the task force with the key objective of helping people leave the war zone as quickly and safely as possible. Maccabi Europe had members at every border crossing from Ukraine to help the refugees in any way possible. Often they waited all night while the refugee papers were processed.
The response from the Maccabi community across Europe has been overwhelming. Dagmar and the Task Force quickly established safe meeting points at the borders connected to Ukraine. The first 50 refugees were taken to the Bucharest shelter, where they received food and accommodation. They arrived on Sunday February 27andat 10 a.m. local time, just 72 hours after the first call.
Since then, hundreds of Jewish refugees have crossed the border and found safety in Amsterdam, Bucharest, Budapest, Frankfurt and many other places, including many who have recently arrived in Israel. This was done with the help of Maccabi Europe Affiliates. Added to the humanitarian cost of war is the financial cost, and we are happy to say that our communities have opened their hearts and homes while sending money to support transport, housing and food for refugees.
Short term, Maccabi Europe has successfully supported and helped over 500 people through our Maccabi network. Although we are very happy and proud to have played a small role in helping these people, we remain humble, for we are painfully aware that this war has affected millions of people and is far from over. We have heard of the killings and destruction, we have heard of them, and we know that there are and will be many more people who need help. While sharing the stories of our Movement's response to the war, we are sensitive to the fact that many ordinary people from all communities are doing extraordinary things right now. We will continue to offer support where possible and for as long as needed.

Maccabi responded to the cry for freedom of hundreds of people in danger during the Russian invasion of Ukraine. Each Passover Seder with dinner is a joyful family and national holiday. If our ancestors through 18 centuries of dispossession, alienation and exile were able to celebrate a national freedom they did not enjoy in their daily lives… how much more should we, who live in the era of Jewish national freedom redemption! We can say "Leshanah Haba'ah Biyirushalayim!" ("Next year in Jerusalem") and seize this dream, this old desire, right now…
May God grant that this Seder inspires us to rediscover the exceptional significance of the National Freedom of Passover.
May God grant that we learn to take advantage of this present and glorious period in the history of our people, when our national freedom is a daily reality in our Jewish State.
And God bless this gathering of our loved ones around the
Passover table in loving embrace and meaningful dialogue.
Hag Passover Sameach!
Chazak ve'ematz!
Rabbi Carlos A. Tapiero
Deputy Director General and Director of Education
Maccabi World Union
---
[1]
Passover, in English.
[3]
The ritual festive Passover meal, which included foods symbolizing the experience of slavery and subsequent freedom.