Ukrainian Culture Benefit Concert with Klezmer Legends Supergroup Yale Strom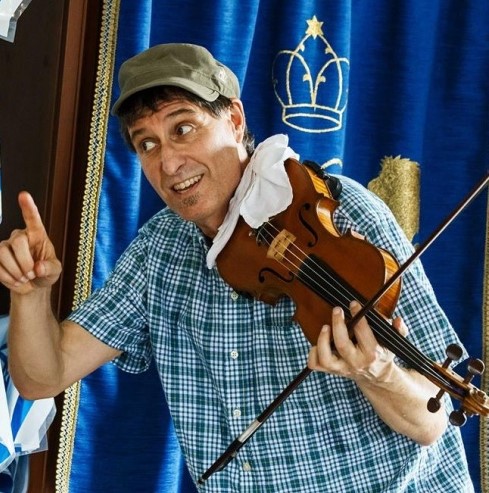 by Kevin Cody
An evening celebrating Ukrainian culture, featuring the music of the Klezmer supergroup Yale Strom and Hot Pstromiis hosted by Manhattan Beach author Richard Foss at Collage: A place of art and culture in San Pedro. The concert is Wednesday. April 27 at 7:30 p.m.
"Russian nationalists have denied that there is a distinct Ukrainian culture, but all Ukrainians know differently. During the previous week, starting Friday, April 15, we will present their cultural traditions, from the cradle of Slavic civilization," Foss said. "We have both fine art and folk art, as well as old embroidery that a refugee brought from kyiv in a suitcase."
Programs include Ukrainian Easter egg painting, a cooking demonstration, and Ukrainian folk and klezmer music. Klezmer music reflects influences from Jews, Roma, Rusyns, Turks, Lemkos, Poles, Romanians, Slovaks, Russians, Hungarians and Swabians who live in or near Ukraine.
Yale Strom and fellow band members Elizabeth Schwartz and Fred Benedetti have performed klezmer and rom music all over the world.
Strom began conducting ethnographic research in Eastern Europe (including Ukraine) when it was rare for Americans to venture behind the Iron Curtain. He learned songs that had never been written by Jewish and Roma musicians. Strom produced the documentary "The Last Klezmer".
Schwartz researched music among Jews and Roma in Romania and performed at Carnegie Hall. She is a recording artist with ARC-UK and is considered one of the best performers of Yiddish songs in the world today.
Fred Benedetti studied guitar with Andres Segovia and the Romeros and is considered one of the best classical guitarists in the world.
Tickets for this concert cost between $15 and $25 and are available at Eventbrite.com. Other events during the Ukrainian Culture Exhibition are listed at collageartculture.com.
Collage: A place of art and culture is at 732 S. Pacific Ave., San Pedro. Emergencies